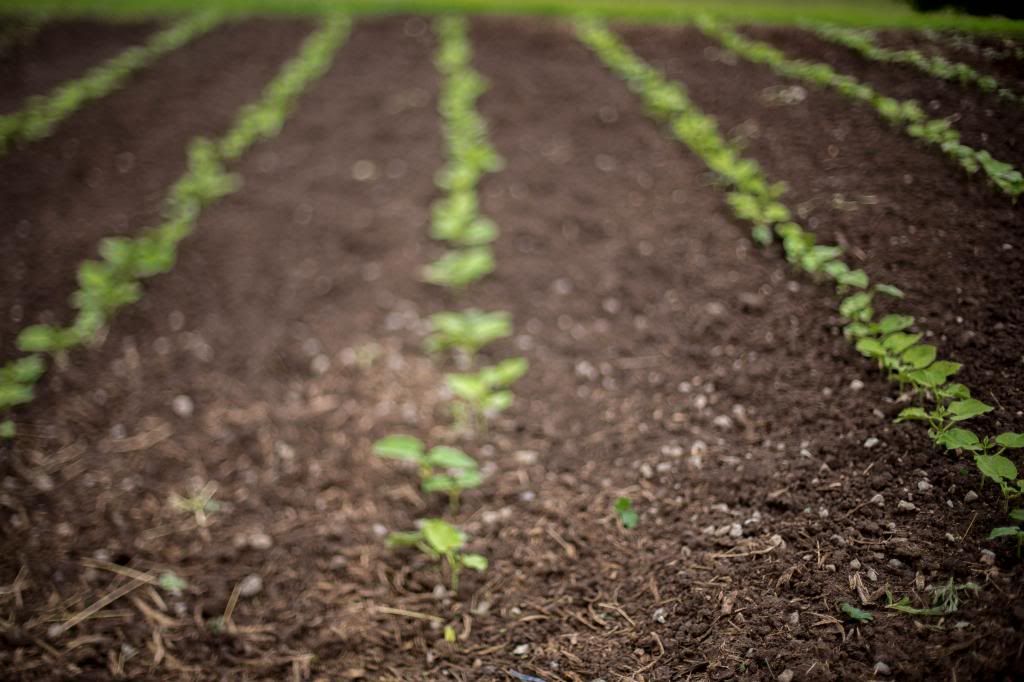 It has been raining off and on for the past couple of weeks here in Ohio, and I must say, I don't mind it one bit. Don't get me wrong, I love bright sunny days, but if I were to be completely honest, I love rainy days. They are the kind of days that everyone seems to dislike but for me they are the kind of days that make me just want to slow down and take in all of the beauty that many people seem to overlook in a rainy day. I think rainy days are inspiring. They inspire me to appreciate the little things. They inspire me to do what I love. And of course they inspire me to finish a good book like Jane Eyre and watch the never-failing british movies I love so much.
Summer is here... which not only means wonderful nighttime storms, but also a garden! I'm not much of a gardener, but I do love homegrown produce that is fresh and delicious. Thankfully, I have a mom that likes to garden and thankfully she has a daughter that likes cooking with the yummy vegetables... we make a good team. Every year my mom and dad put out a large garden full of corn, green bean (lots and lots), tomatoes, peppers, sweet potatoes, beets, yummy okra, and many other things. Have you ever tried okra? If you have, you are probably making a disgusted face at your computer screen. Now I know okra is most of the time just slimy, mushy, and all together "blah", but it does't have to be! What we like to do is cut the okra into small slices and fry them with a little oil in an iron skillet for a while until they are nice and crispy. Mmm, you must try it this way, I promise it won't disappoint.
Oh, and let's not forget the raspberries! First of all you must know that I have a deep love for fruit, and when it comes to raspberries, there's no going wrong. I have a little patch behind the garden (thanks to
these people
!) that I'm excited to snack on soon. Confession: It has always been a "dream" of mine to be able to grow enough raspberries to make a pie.
That's all I want!
We'll see if my "dream" is fulfilled this summer. ;) Next is a blueberry patch. People, I need a blueberry patch.
Do you have a garden? What are some of your favorite things that you grow (or would like to grow) in it?
P.S. I've had Vienna by Billy Joel on repeat for the last 1 1/2 hours... on shame.